Product Description
Product Description
COUPLINGS
| | | | | | | | |
| --- | --- | --- | --- | --- | --- | --- | --- |
| HRC | FCL | Chain coupling | GE | L | NM | MH | Torque limiter |
| HRC 70B | FCL90 | KC4012 | GE14 | L050 | NM50 | MH45 | TL250-2 |
| HRC 70F | FCL100 | KC4014 | GE19 | L070 | NM67 | MH55 | TL250-1 |
| HRC 70H | FCL112 | KC4016 | GE24 | L075 | NM82 | MH65 | TL350-2 |
| HRC 90B | FCL125 | KC5014 | GE28 | L090 | NM97 | MH80 | TL350-1 |
| HRC 90F | FCL140 | KC5016 | GE38 | L095 | NM112 | MH90 | TL500-2 |
| HRC 90H | FCL160 | KC6018 | GE42 | L099 | NM128 | MH115 | TL500-1 |
| HRC 110B | FCL180 | KC6571 | GE48 | L100 | NM148 | MH130 | TL700-2 |
| HRC 110F | FCL200 | KC6571 | GE55 | L110 | NM168 | MH145 | TL700-1 |
| HRC 110H | FCL224 | KC8018 | GE65 | L150 | NM194 | MH175 |   |
| HRC 130B | FCL250 | KC8571 | GE75 | L190 | NM214 | MH200 |   |
| HRC 130F | FCL280 | KC8571 | GE90 | L225 |   |   |   |
| HRC 130H | FCL315 | KC1571 |   |   |   |   |   |
| HRC 150B | FCL355 | KC12018 |   |   |   |   |   |
| HRC 150F | FCL400 | KC12571 |   |   |   |   |   |
| HRC 150H | FCL450 |   |   |   |   |   |   |
| HRC 180B | FCL560 |   |   |   |   |   |   |
| HRC 180F | FCL630 |   |   |   |   |   |   |
| HRC 180H |   |   |   |   |   |   |   |
| HRC 230B |   |   |   |   |   |   |   |
| HRC 230F |   |   |   |   |   |   |   |
| HRC 230H |   |   |   |   |   |   |   |
| HRC 280B |   |   |   |   |   |   |   |
| HRC 280F |   |   |   |   |   |   |   |
| HRC 280H |   |   |   |   |   |   |   |
Catalogue
Workshop
   Lots of coupling in stock
 
FAQ
Q1: Are you trading company or manufacturer ?
A: We are factory.
 
Q2: How long is your delivery time and shipment?
1.Sample Lead-times: 10-20 days.
2.Production Lead-times: 30-45 days after order confirmed.
Q3: What is your advantages?
1. The most competitive price and good quality.
2. Perfect technical engineers give you the best support.
3. OEM is available.
| | |
| --- | --- |
| Standard Or Nonstandard: | Standard |
| Structure: | Flexible |
| Material: | Cast Iron |
| Type Name: | FCL |
| Origin: | Zhejiang |
Customization:

Available

|

Customized Request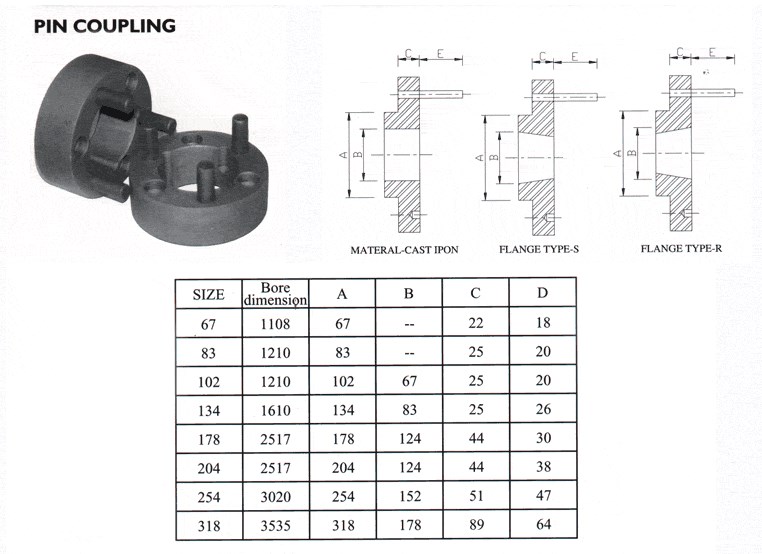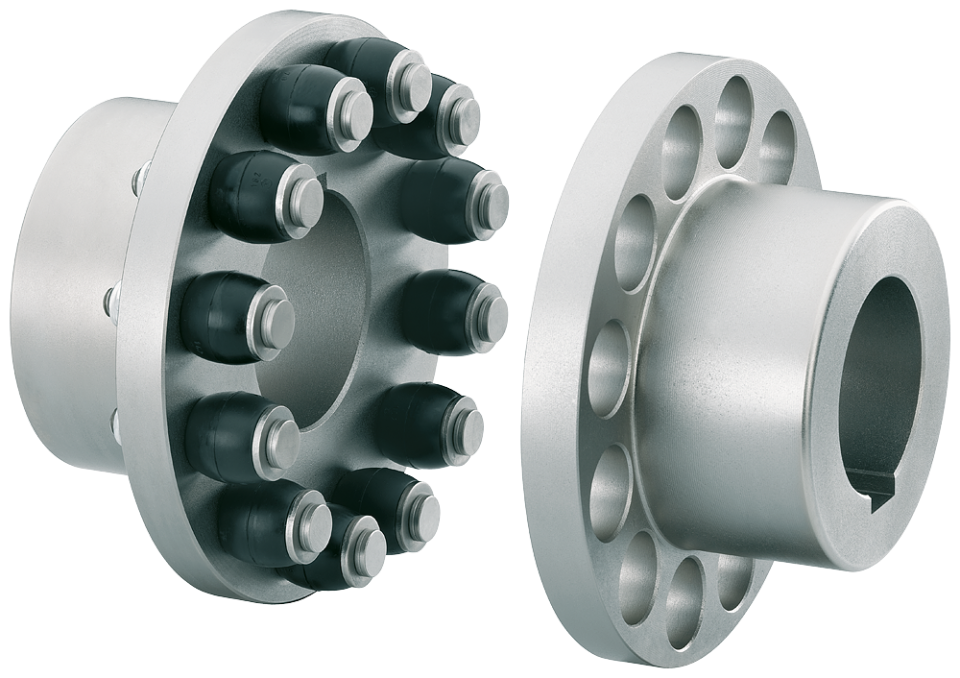 Can Pin Couplings Be Used in Both Horizontal and Vertical Shaft Arrangements?
Yes, pin couplings can be used in both horizontal and vertical shaft arrangements. These couplings are designed to accommodate angular misalignment, parallel misalignment, and axial movement, making them versatile for various shaft orientations.
In horizontal shaft arrangements, where the shafts are aligned on the same horizontal plane, pin couplings can efficiently transmit torque while allowing for flexibility to accommodate minor misalignments and shaft movements. The pins and flexible elements in the coupling enable angular displacement and radial flexibility, ensuring smooth power transmission even if the shafts are not perfectly aligned.
In vertical shaft arrangements, where the shafts are aligned on a vertical plane, pin couplings can also be used effectively. The coupling design allows for axial movement, which is crucial in vertical applications where the shafts may experience expansion or contraction due to thermal changes or other factors. The flexible nature of pin couplings allows them to handle these axial movements without compromising the coupling's performance.
Whether in horizontal or vertical arrangements, pin couplings are commonly used in various industrial applications, including pumps, compressors, conveyors, and other rotating machinery. They are known for their simplicity, ease of installation, and ability to provide reliable power transmission while accommodating misalignment and shaft movement.
When using pin couplings in either arrangement, it is essential to ensure proper alignment and regular maintenance to maximize their performance and service life. Additionally, considering factors like torque requirements, operating conditions, and environmental considerations will help in selecting the appropriate pin coupling for a specific application.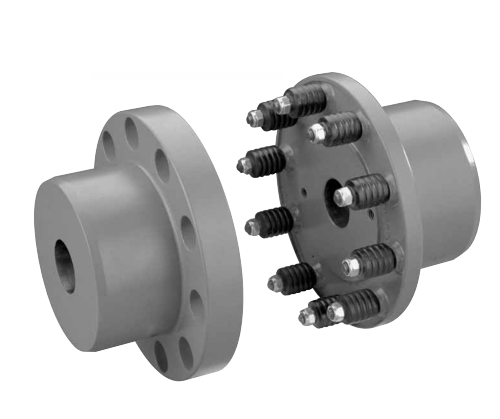 What Industries Commonly Use Pin Couplings for Power Transmission?
Pin couplings are widely used in various industries for power transmission due to their ability to accommodate misalignment and provide reliable torque transmission. Some of the industries where pin couplings are commonly employed include:
1. Manufacturing: In manufacturing processes, pin couplings are used in conveyor systems, mixers, agitators, and other machinery to transfer power between motors and driven equipment.
2. Pulp and Paper: The pulp and paper industry uses pin couplings in machinery such as pumps, fans, and rotary kilns for continuous power transmission.
3. Chemical and Petrochemical: Pin couplings find applications in chemical processing plants, refineries, and petrochemical facilities for various rotating equipment.
4. Water and Wastewater: Pin couplings are used in water treatment facilities, pumps, and blowers to transfer power efficiently.
5. Steel and Metal Processing: Steel mills and metal processing plants utilize pin couplings in rolling mills, extruders, and other equipment.
6. Food and Beverage: Pin couplings are employed in food processing machinery, packaging equipment, and conveyor systems.
7. Mining and Quarrying: The mining industry uses pin couplings in crushers, conveyor belts, and various mineral processing equipment.
8. Oil and Gas: Pin couplings are used in the oil and gas sector for pumps, compressors, and drilling equipment.
9. Power Generation: In power plants, pin couplings are used in turbines, generators, and other power transmission systems.
10. Construction and Heavy Equipment: Pin couplings find applications in construction machinery, earthmoving equipment, and other heavy-duty machinery.
11. Agriculture: In agricultural machinery, pin couplings are used in tractors, irrigation systems, and grain processing equipment.
These are just some examples of the industries where pin couplings are commonly used. Pin couplings offer versatility, ease of installation, and reliability, making them suitable for a wide range of applications in different sectors where power transmission is essential.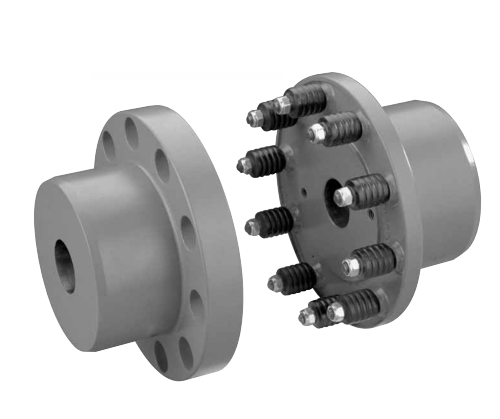 Can Pin Couplings Handle Misalignment Between Shafts?
Yes, pin couplings are designed to accommodate a certain degree of misalignment between shafts in rotating machinery. They are considered flexible couplings, which means they can provide some degree of angular, parallel, and axial misalignment capability.
Pin couplings typically consist of two hubs, each connected to a shaft, and a central sleeve with pins that transmit torque between the hubs. The pins allow for a limited range of movement, which helps to compensate for slight misalignments between the shafts.
The angular misalignment capacity of a pin coupling is achieved through the bending of the pins. When the shafts are misaligned at an angle, the pins on one side of the coupling experience bending while those on the opposite side are in tension. The pins are designed to withstand these bending and tension forces within their elastic limits, ensuring proper functioning and longevity of the coupling.
Similarly, the pins can accommodate parallel misalignment by sliding within the pin holes of the coupling's central sleeve. This sliding action allows the hubs to move slightly relative to each other, compensating for any offset between the shafts.
However, it is essential to note that pin couplings have limitations in terms of the amount of misalignment they can handle. Excessive misalignment beyond their specified limits can lead to increased wear on the pins and other coupling components, reducing the coupling's effectiveness and potentially causing premature failure.
While pin couplings are suitable for applications with moderate misalignment requirements, they may not be the best choice for applications with significant misalignment or where precise alignment is critical. In such cases, more flexible couplings like gear or elastomeric couplings may be more appropriate.
Overall, when considering the use of pin couplings, it is essential to carefully evaluate the specific misalignment requirements of the application and select a coupling that can adequately accommodate those misalignments while ensuring reliable and efficient power transmission.



editor by CX 2023-08-11