Product Description
Cone Ring flexible coupling,
1. The coupling consists of 2 hubs: One pin hub with the corresponding pins and a bush hub.
2. The torque is transmitted via the steel pins with their taper elastomer rings and the corresponding bores  
     in  the bush hub.
3. The couping is maintenance-free an is used in general engineering and the pump industry.
4. Customized requirement is available.
| | | | |
| --- | --- | --- | --- |
| size | Torque/Nm | Kw/100 RPM | Max Speed RPM |
| 571 | 50 | 0.56 | 6500 |
| 030 | 110 | 1.2 | 5470 |
| 038 | 190 | 2 | 5260 |
| 042 | 290 | 3 | 4750 |
| 048 | 480 | 5 | 4050 |
| 058 | 760 | 8 | 3600 |
| 070 | 1000 | 11 | 3220 |
| 075 | 2600 | 27 | 2730 |
| 085 | 3500 | 37 | 2480 |
| 105 | 5300 | 56 | 2100 |
| 120 | 9000 | 94 | 1880 |
| 135 | 12223 | 128 | 1660 |
| 150 | 16000 | 167 | 1520 |
ZheJiang Shine Transmission Machinery Co., Ltd is specialized in manufacturing and selling transmission products.
Our products are exported to the world famous machinery company in Europe, America, South Africa, Australia, Southeast Asia etc.
Our main products include: European pulley, American pulley, Couplings, taper bushing, QD bush, lock element, adjustable motor base, motor rail, sprockets, chain, bolt on hubs, weld on hubs, jaw crusher equipment & spare parts and all kinds of non-standardcasting products etc.
 
| | |
| --- | --- |
| Standard Or Nonstandard: | Standard |
| Shaft Hole: | 150mm |
| Torque: | 16000nm |
| Bore Diameter: | 150mm |
| Speed: | 1520rpm |
| Structure: | Flexible |
Samples:

US$ 0.00/Piece

1 Piece(Min.Order)

|
Request Sample
Customization:

Available

|

Customized Request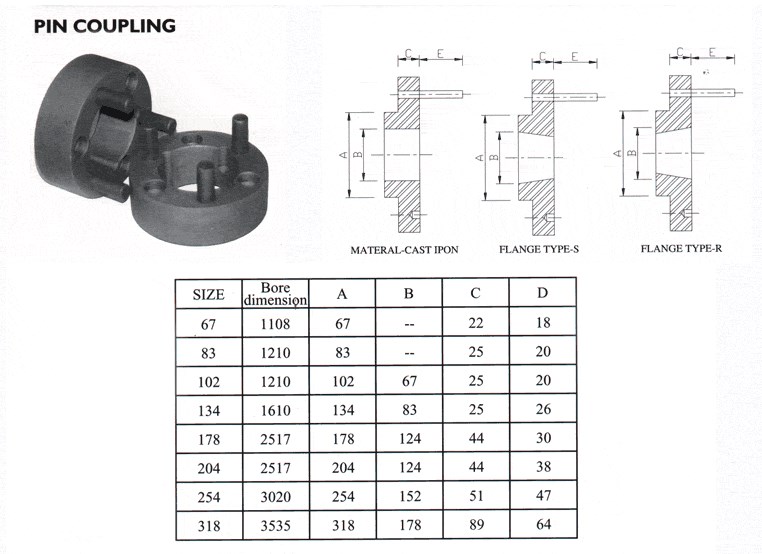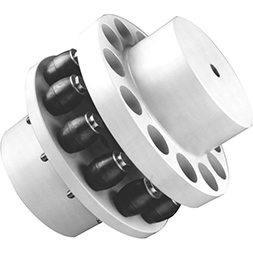 How Does a Pin Coupling Protect Connected Equipment from Shock Loads and Vibrations?
Pin couplings are designed to provide excellent protection to connected equipment from shock loads and vibrations, ensuring the smooth and reliable operation of the machinery. The unique features of pin couplings contribute to their ability to absorb and dampen shock loads and vibrations effectively:
Flexibility: Pin couplings possess a certain degree of flexibility due to the presence of movable pins. When subjected to sudden shock loads or vibrations, the pins can flex and move slightly, absorbing the impact and preventing it from transmitting directly to the connected equipment. This flexibility helps in reducing stress and minimizing the risk of damage to the machinery.
Torsional Compliance: The pin coupling's design allows for a certain amount of torsional compliance. This means that when the connected shafts experience slight misalignments or angular displacements, the pin coupling can compensate for these variations without causing additional stress or vibration in the system. This feature ensures that the machinery remains in proper alignment even under dynamic conditions, reducing wear and tear.
Damping Characteristics: The presence of movable pins introduces damping characteristics to the coupling. When vibrations occur in the system, the pins can dampen these oscillations, preventing resonance and the amplification of vibrations. This damping effect improves the overall stability and performance of the machinery.
Strength and Resilience: High-quality pin couplings are constructed from durable materials with excellent fatigue resistance. This enables the coupling to withstand repeated shock loads and vibrations over an extended period without compromising its integrity. The strength and resilience of the pin coupling contribute to the protection of the connected equipment.
Overall, pin couplings are reliable and versatile components that can effectively protect connected equipment from shock loads and vibrations. Their flexibility, torsional compliance, damping characteristics, and robust construction make them suitable for various industrial applications where shock and vibration mitigation are essential for maintaining the health and longevity of machinery and equipment.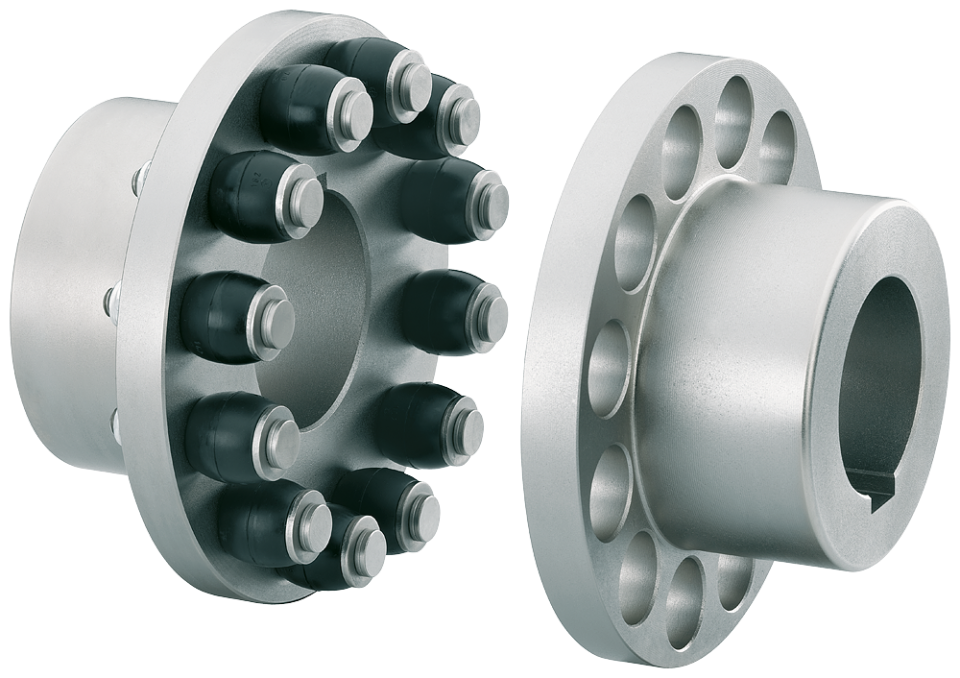 Can Pin Couplings Be Used for Both Motor-to-Shaft and Shaft-to-Shaft Connections?
Yes, pin couplings can be used for both motor-to-shaft and shaft-to-shaft connections in various mechanical systems. The versatile design of pin couplings allows them to connect two shafts with aligned or misaligned centers, making them suitable for a wide range of applications.
Motor-to-Shaft Connections: In motor-driven systems, pin couplings are commonly used to connect the motor shaft to the driven shaft of the equipment. The motor can be an electric motor, combustion engine, or any other type of power source. The pin coupling efficiently transfers torque from the motor shaft to the equipment's driven shaft, enabling power transmission and mechanical motion.
Shaft-to-Shaft Connections: Pin couplings are also well-suited for shaft-to-shaft connections, where two separate shafts need to be joined together. This could be the case when extending the length of a shaft or connecting two separate pieces of rotating equipment. The pin coupling provides a secure and flexible connection between the two shafts, allowing torque to be transmitted between them while accommodating misalignment.
It is essential to consider the specific requirements of the application when selecting a pin coupling. Factors such as the amount of misalignment, torque capacity, operating conditions, and space constraints should be taken into account to ensure the coupling can effectively and reliably connect the motor and shafts.
Overall, the versatility and performance of pin couplings make them a popular choice for both motor-to-shaft and shaft-to-shaft connections in various industrial and mechanical systems.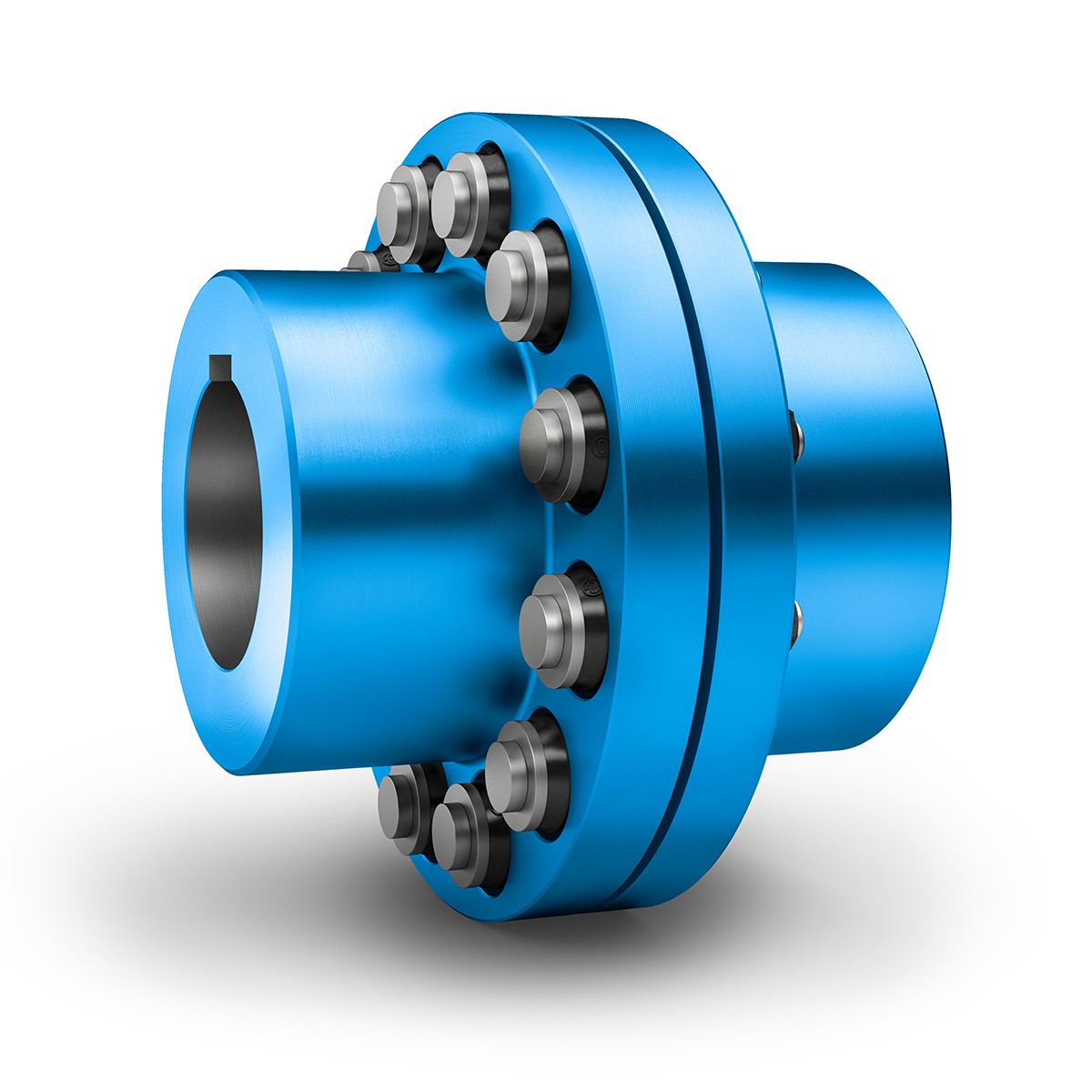 Selecting the Appropriate Pin Coupling for a Specific Application
Choosing the right pin coupling for a specific application involves considering several factors to ensure optimal performance, reliability, and safety. Here are the key steps to select the appropriate pin coupling:
1. Determine the Application Requirements: Understand the specific requirements of the application, including torque and speed specifications, shaft sizes, and misalignment tolerances. Consider the operating conditions, such as temperature, humidity, and exposure to corrosive substances.
2. Calculate Torque and Power: Calculate the torque and power requirements of the application to determine the appropriate pin coupling's torque capacity. Make sure to consider both steady-state and peak torque loads.
3. Consider Misalignment Tolerance: Evaluate the degree of misalignment expected in the system. Different pin coupling designs offer varying levels of misalignment tolerance. Choose a coupling that can accommodate the expected misalignment without compromising performance.
4. Select the Pin Coupling Type: Based on the application requirements, choose the appropriate pin coupling type – single pin, double pin, triangular pin, splined pin, or taper pin coupling. Each type offers different torque capacities and misalignment capabilities.
5. Check Material and Construction: Consider the materials used in the pin coupling's construction. Common materials include steel, stainless steel, and alloy materials. The material should be suitable for the application's environmental conditions and corrosion resistance.
6. Verify Safety Features: Ensure the selected pin coupling has safety features, such as a fail-safe mechanism to protect equipment from overload or shock loads. Safety is crucial to prevent damage to machinery and ensure operator protection.
7. Consult with Manufacturers or Engineers: If unsure about the best pin coupling for the application, consult with coupling manufacturers or mechanical engineers. They can provide valuable insights and recommendations based on their expertise.
By following these steps, you can select the appropriate pin coupling that matches the specific needs of the application, providing reliable and efficient power transmission while minimizing the risk of downtime and equipment failure.



editor by CX 2023-08-08