Product Description
Frame scaffolding coupling pin :
 
1. Coupling pin and spring clip is made of 35mm tubes and 41.27mm collar, used to connect frame scaffolds, with spring clip to lock.
2. Material: Q235
3. Surface finish: Electro galvanized
4. Package: bags and pallet
5. A full mason frame scaffod set is composed of 2 frames, 2 cross braces, 4 levelling base jacks, and 4 coupling pins (connectors)
6. Your design can be produced,too
 
| | |
| --- | --- |
| Type | Frame scaffolding coupling pin |
| Material |  Q235  |
| Color | Silver or required |
| Surface Treatment | Electro galvanized, etc. |
| Advantages | Top quality, Competitive price, Timely delivery, Good Service, Standard package, |
| Minimum order | 1 piece |
| Supply ability | 20 containers/ month |
| Port | HangZhou |
| Currency | USD, RMB |
| Payment | L/C, T/T, 30% in advance |
| Package | Bags and Pallet |
| Delivery | according to quantities to be needed |
Here all ranges of frame scaffolding are supplied and exported: mason frame, shoring frame, walkthrough frame, box frame, A frame, galvanized cross brace, coupling pins and spring clips, screw jacks, base plates, guard rails, all types of locks and pins. Accessories which are used for manufacturing can be supplied, too.
Order of mixed items can be accepted. OEM service is available. Contact us for latest prices.
Scaffolding coupling pins and spring clips
| | |
| --- | --- |
| Material: | Steel |
| Type: | Fixed |
| Structural Style: | Multi-Pole Scaffolding |
| Framework: | Combined Scaffolding |
| Supporting Mode: | Projecting Scaffolding |
| Lapping Form: | Full Scaffolding |
Samples:

US$ 0/Piece

1 Piece(Min.Order)

|
Request Sample
Customization:

Available

|

Customized Request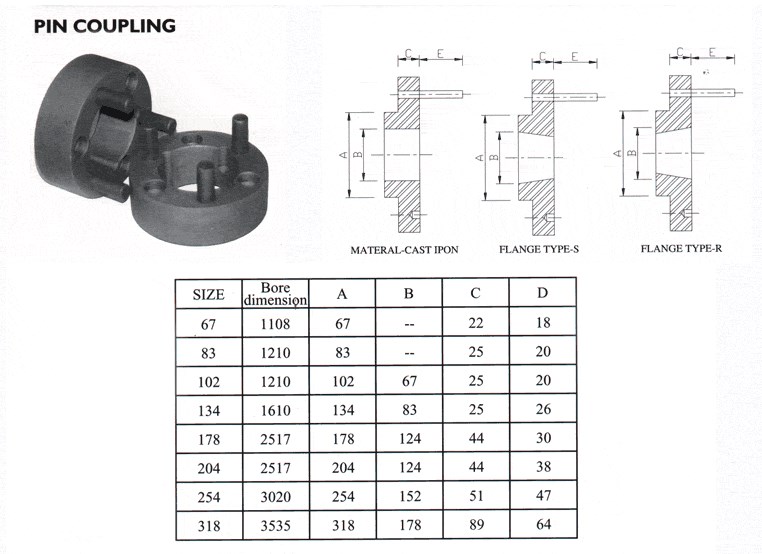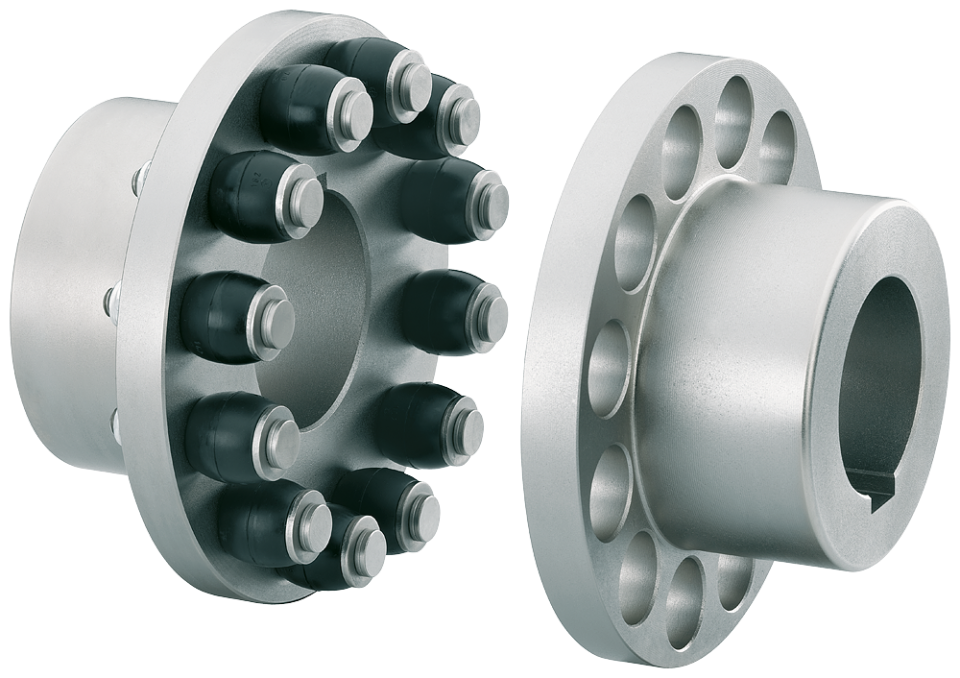 Can Pin Couplings Be Used in Both Horizontal and Vertical Shaft Arrangements?
Yes, pin couplings can be used in both horizontal and vertical shaft arrangements. These couplings are designed to accommodate angular misalignment, parallel misalignment, and axial movement, making them versatile for various shaft orientations.
In horizontal shaft arrangements, where the shafts are aligned on the same horizontal plane, pin couplings can efficiently transmit torque while allowing for flexibility to accommodate minor misalignments and shaft movements. The pins and flexible elements in the coupling enable angular displacement and radial flexibility, ensuring smooth power transmission even if the shafts are not perfectly aligned.
In vertical shaft arrangements, where the shafts are aligned on a vertical plane, pin couplings can also be used effectively. The coupling design allows for axial movement, which is crucial in vertical applications where the shafts may experience expansion or contraction due to thermal changes or other factors. The flexible nature of pin couplings allows them to handle these axial movements without compromising the coupling's performance.
Whether in horizontal or vertical arrangements, pin couplings are commonly used in various industrial applications, including pumps, compressors, conveyors, and other rotating machinery. They are known for their simplicity, ease of installation, and ability to provide reliable power transmission while accommodating misalignment and shaft movement.
When using pin couplings in either arrangement, it is essential to ensure proper alignment and regular maintenance to maximize their performance and service life. Additionally, considering factors like torque requirements, operating conditions, and environmental considerations will help in selecting the appropriate pin coupling for a specific application.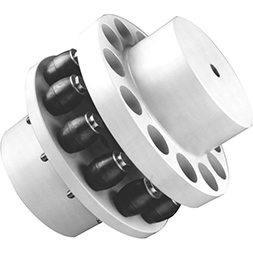 Factors to Consider When Choosing a Pin Coupling for a Specific System
When selecting a pin coupling for a specific system, several critical factors need to be considered to ensure optimal performance, reliability, and longevity. Each application has unique requirements, and choosing the right pin coupling involves assessing the following factors:
1. Torque and Power Requirements: Determine the torque and power transmission requirements of the system. The pin coupling must be capable of handling the maximum torque and power generated by the connected equipment.
2. Operating Speed: Consider the rotational speed of the system's driving and driven shafts. The pin coupling's design should allow for smooth and efficient operation at the specified speed range.
3. Misalignment Tolerance: Assess the degree of misalignment between the shafts that the coupling needs to accommodate. Pin couplings are suitable for applications with moderate angular, parallel, and axial misalignment.
4. Operating Environment: Consider the environmental conditions the coupling will be exposed to, including temperature, humidity, dust, and presence of corrosive substances. Choose a pin coupling with materials and surface treatments suitable for the operating environment.
5. Size and Space Constraints: Ensure that the selected pin coupling fits within the available space and does not interfere with other components in the system.
6. Serviceability and Maintenance: Evaluate the ease of installation, maintenance, and replacement of the pin coupling. Easy-to-service couplings can help reduce downtime and maintenance costs.
7. Shock and Vibration: Consider the level of shock and vibration the system will experience. The pin coupling should be robust enough to handle these dynamic loads without failure.
8. Cost: Evaluate the overall cost of the pin coupling, including its initial purchase price, maintenance costs, and potential downtime expenses. Choose a coupling that offers the best balance of performance and cost-effectiveness.
9. Material Selection: Select the appropriate materials for the pin coupling based on the application requirements. Common materials include carbon steel, stainless steel, and alloy steel.
10. Compatibility: Ensure that the pin coupling is compatible with the specific shaft sizes and configurations of the system's driving and driven components.
11. Compliance with Industry Standards: Check if the pin coupling meets relevant industry standards and safety requirements.
By carefully considering these factors, engineers and system designers can choose the most suitable pin coupling for their specific application. It's essential to work closely with coupling manufacturers or suppliers to ensure that the selected coupling meets all the necessary specifications and requirements.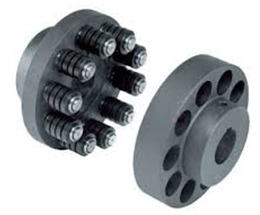 Understanding Pin Couplings and Their Functionality
A pin coupling, also known as a shear pin coupling, is a type of mechanical coupling used to connect two rotating shafts in a mechanical system. It is designed to transmit torque while allowing for a limited amount of angular misalignment between the shafts. The primary function of a pin coupling is to protect the connected equipment from torque overload and prevent damage to the shafts and other components in case of sudden shock or overload.
How a Pin Coupling Works:
A typical pin coupling consists of two hubs, one on each shaft to be connected, and a series of pins that pass through the hubs to join them together. The pins are usually made of a softer material than the hubs, such as brass or aluminum, to act as sacrificial elements. The number and size of the pins depend on the coupling's torque rating and the required angular misalignment capacity.
When the shafts are misaligned, the pins experience shear stress as they bend under the applied load. In normal operating conditions, the pins remain intact and allow the torque to transfer from one shaft to another. However, in the event of an overload or excessive misalignment, the pins will shear off, preventing the transmission of excessive torque and protecting the connected equipment from damage.
After shearing, the damaged pins can be easily replaced, and the coupling can be put back into service without major repairs to the equipment. This feature makes pin couplings particularly suitable for applications with varying operating conditions and environments where shock loads or sudden overloads may occur.
Advantages of Pin Couplings:
– Protection against Overload: The shear pins act as a safety feature, protecting the connected equipment from excessive torque and sudden shocks.
– Misalignment Tolerance: Pin couplings can accommodate a limited amount of angular misalignment between the shafts.
– Easy Replacement: After shearing, the damaged pins can be quickly replaced, reducing downtime and maintenance costs.
– Versatility: Suitable for a wide range of applications, including pumps, compressors, and other industrial machinery.
– Cost-Effective: The sacrificial pins are cost-effective components that can be easily replaced, avoiding costly repairs to the main equipment.
Limitations:
– Pin couplings have lower torque capacities compared to some other coupling types, such as gear couplings or rigid couplings.
– The need to replace the shear pins after each failure may lead to frequent maintenance requirements in applications with frequent overloads or misalignments.
In summary, pin couplings offer a reliable and cost-effective solution for torque transmission and protection against overloads in various mechanical systems. Their ability to accommodate misalignment and absorb shock loads makes them suitable for a wide range of industrial applications.



editor by CX 2023-08-21